HOW DOES THE ORDER WORK - QUICK GUIDE: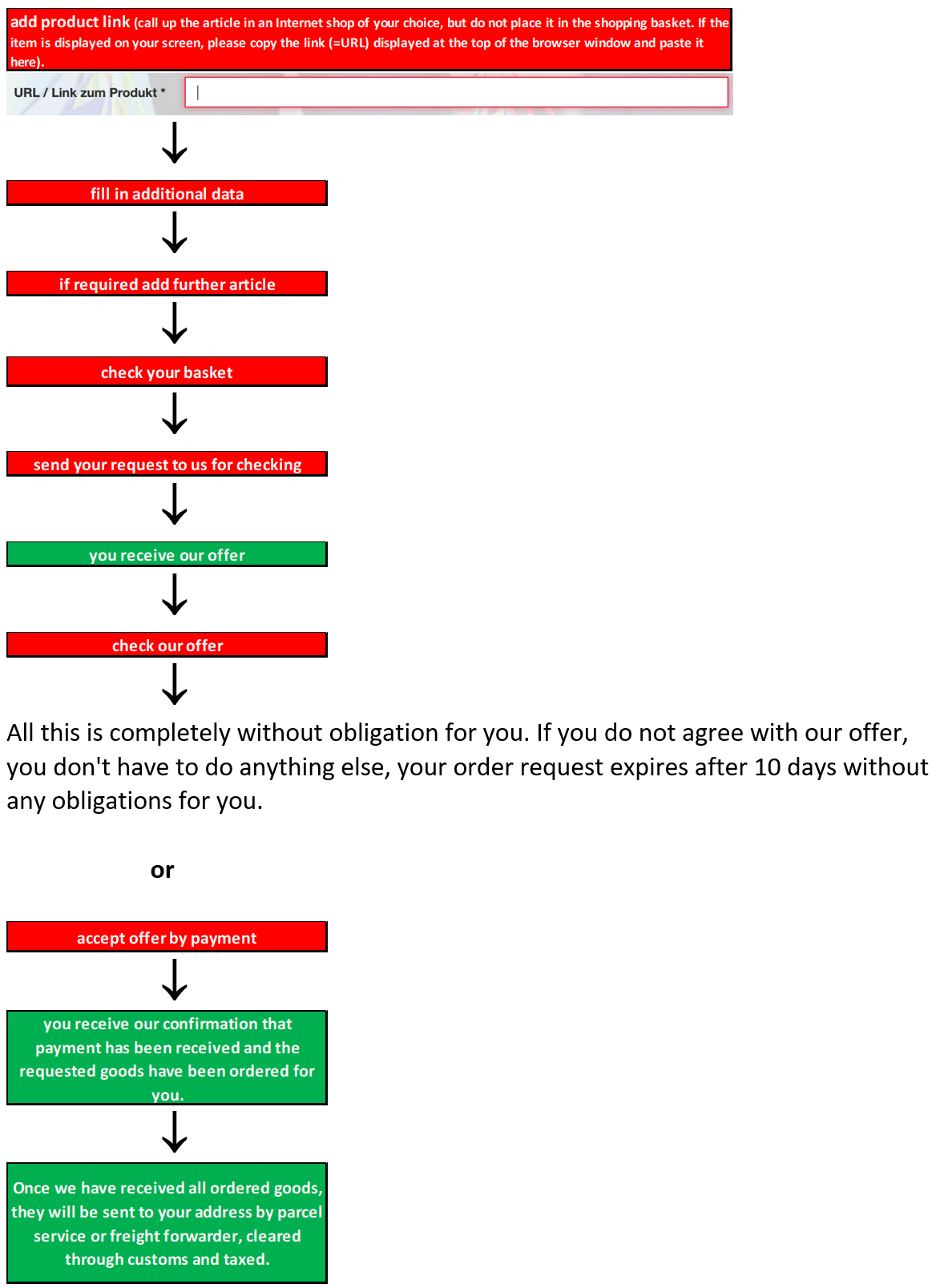 Click here for the explanatory video - "So easy is shopping with EUROGOODS"
Placing an order is free of charge and without obligation. We will only order the goods when you have approved our offer and paid the purchase price.
Find your desired product in any internet shop in Germany or the EU. It is important that the supplier ships to Germany, because we prepare the goods in our German depot for dispatch to Switzerland.
Enter the link (URL) to the desired product in our order form
Fill in further data, at least the mandatory fields (fields with *)
Place the order in the shopping cart and add other items if requested
Click on "View shopping cart" and check your order
Then send the entire shopping cart to us for checking
We will send you our offer by return, which you can confirm by your payment. You will then receive a confirmation from us that the payment has been received and later the information that the goods have been received.
If you don't pay, the order expires without any obligations on you.
What we do not deliver:
Perishable food, as the cooling cannot be maintained during the entire transport from the manufacturer or supplier to the final destination, and strong temperature fluctuations cannot be ruled out.
Plants and seeds, as imports are subject to strict and complicated regulations, e.g.  plant passports etc. are required for the import, permits are required and technical expertise is required that we do not have.
The detailed description of HOW DOES THE ORDER WORK follows here:
HOW DOES THE ORDER WORK?
First things first: your order is free of charge and without obligation. When you send us your order for review, you will receive a confirmation from us, i.e. an offer with all costs, and you can then decide whether you really want to buy the goods. If so, you simply transfer the purchase price. If not, our offer expires after 10 days without any obligation on your part.
To be able to place an order, please first register on our website. If you are logged in, you can place your order using our order form. To do this, please enter the complete link to your product in our order form.
To get this link, call up the item in the internet shop you have chosen (e.g. at Amazon), but DO NOT put it in the shopping cart there, instead please copy the entire address line that is now displayed in your browser window , add this to the "URL / Link to the product" line in our order form above and add further data in the mandatory fields.
With the button "add to shopping cart" your order will be moved to the shopping cart. If all the desired items are in the shopping cart, please click on "View shopping cart" and check your desired order. Your order request will only be transmitted to us when you press "Submit for checking". You can find out the current status of your orders in your account under "My orders".
Shopping like in Germany, France, Italy, Austria und other EU-countries! You can now benefit from the wide range of offers in all European web shops and benefit from low EURO prices.
Whether for your private or commercial needs, just go to an EU Internet shop of your choice or select a shop from our SHOPPING MALL.
Open a new tab or a new window in your browser. When clicking a store in our SHOPPING MALL a new tab will automatically open in your Browser. Now you can unhurriedly select your favourite items. If you found your desired product, login to our site and click on "Enter order request".
Now just select the entire address bar (URL) from the browser tab of your selected Internet Shop, where the product of your choice is displayed. Copy the entire address bar (with CTRL-C or right click - "Copy") and add it in the order form on our site (with CTRL-V or right click - "paste").
In addition you can give us some further information on the selected product, allowing us to clearly identify it.
With "save" your order arrives in the cart. Only when you press "send", your order is transmitted to us and becomes binding for you.
With us you pay only the gross price of the product, including or excluding the shipping costs to Germany as displayed in your selected store and - if the goods are subject to duty – the duty charges. In addition, we only charge the cost for packaging and shipping to Switzerland, while we try whenever possible to combine multiple orders placed at a time into one shipment saving postage.
The import tax in Switzerland and the cost of our services is covered from the VAT refunds. This puts you, as a Swiss customer, factually into the same buying position as if you were a customer in the EU.
We check your order request and send you usually within one working day our confirmation stating all prices and cost of your order in detail. Your order request will be performed as soon as the total order value as per our confirmation, in EURO, is received into our stated bank account.
After the goods arrived in our warehouse in Germany, the packet is immediately completed with the necessary customs documents for export to Switzerland and despatched by a postal or parcel service directly to you. We take care of all import formalities and for proper clearance of the goods for you and we pay duty and import tax for the consignment to the Swiss Customs Authorities.
All information about your order and the current order status you find in your personal area on our website under "My Orders".
Of course, we keep you up to date regarding the shipment of your consignment providing you with the tracking number that enables you to follow up the delivery status at any time.
Enjoy shopping in the shopping world of Germany and the countries of the European Union.